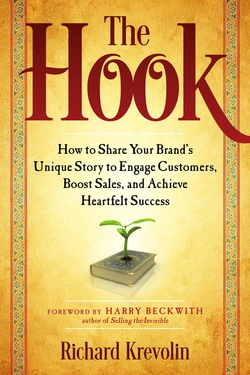 My new book on Business Narratives in being published by Career Press and should by out in November just in time to be the perfect holiday gift. :)


It's called, THE HOOK, and the reviews and blurbs are already starting to come in.

"For a brand to make an emotional connection with its customers, story telling is essential. THE HOOK demystifies the process." -Terri Alpert, CEO of Uno Alla Volta

"I wanted to begin this quote with a glib anecdote about how I took a relatively unknown brand of washing powder and within a few years, incorporating many of the marketing and storytelling techniques of Prof. Krevolin, I transformed that brand into the number one washing powder in the world with grosses in the billions! Instead, I will just say that his teachings contained in this book are an oasis from the same old reheated poppycock present in most marketing seminars and books. Instead of relying on lists of information, his book moves like a good story—in keeping with his emphasis on narrative and storytelling. Learn from him. Enjoy his lessons. Be inspired to tap into your natural brilliance and that of your colleagues!" — Simon Clift, former President, Marketing: Home and Personal Care, Unilever

"Prof. K's passion, expertise and charismatic style of crafting deeply resonating narratives have been pivotal in unlocking love for our brands, inspiring marketers to be storytellers and build true consumer empathy. His contribution is immeasurable in both immediacy of impact and shaping the future" — Shekar Khosla, Chief Marketing Officer, Kellogg Asia Pacific and Africa.

Here's two great articles on BRAND NARRATIVES:
---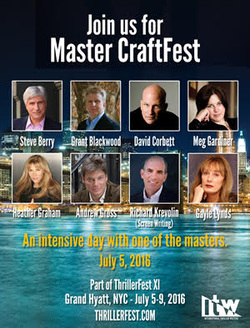 Master CraftFest is ITW's one-day intensive craft school for thriller writers of all levels and experience. This is our third year and each previous year the classes have filled quickly and a waiting list was necessary.

Don't miss out on this one-of-a-kind learning experience. Register now.

Also, this year we have added a screenwriting class to our line up. I will head this class but space is limited to 10 students.

So if screenwriting is your thing, sign up now to assure your place in this class.

www.thrillerfest.com

---
It's been called a strategic tool with "irresistible power" by Harvard Business Review. And "the major business lesson of 2014" by Entrepreneur magazine. What exciting new 21st-century technology is this? The age-old art of storytelling — Read more about it at this NY TIMES link:
AND JUST DID A RADIO INTERVIEW IN LONDON ABOUT BUSINESS NARRATIVES.
CHECK IT OUT HERE...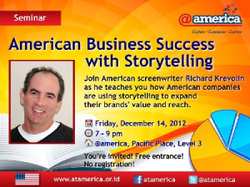 PROF. K. OFFERS YOU A NEW STORYVISION

How do innovative leaders and companies educate, inspire and sell?

They create well-crafted, emotionally moving stories that ignite real, positive transformation in companies!

THE NEW AGENDA FOR NARRATIVES –

We live in a new era when corporations can no longer just worship the bottom line of profits. Consumers and customers only want to be associated with brands that practice business with responsibility and social consciousness.

Fortunately, most companies today have both a compelling story to tell and an array of innovative, game-changing products and services that are the epitome of this new emphasis on social responsibility.

But how do you get people excited about inanimate objects? How do you create the necessary awareness of your new products and services?

You do it by telling your story well!!!

---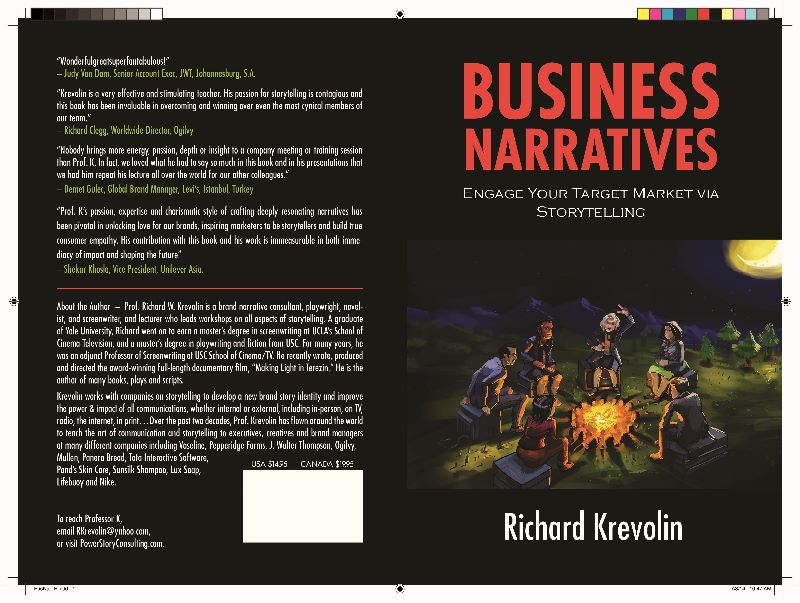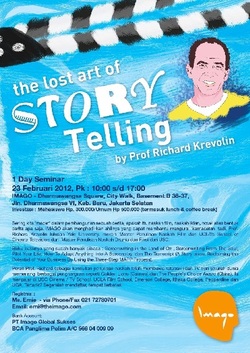 Every company today needs to both craft personal signature stories for the founders and leaders of the company, as well brand narratives that represent the essence of your brand to the world. In doing so, you can engage consumers in a way that they will remember you and leave them with a positive emotional response to you and your company.

In a nutshell, if we like you, if we care about you, we will buy from you and people like you if you tell them good stories about yourself. In a sense, it really is that simple.

And please remember, if your signature brand narrative is told well and truly embodies the DNA of your company, you will have a tool that both helps sales and also furthers the meaning and purpose of your brand both in internal and external corporate communications.

-------------------------------------------------------------------------------------------------------------------------------------

(Kathleen Grace, who's the Chief Creative Officer of Howard & Grazer's New Form Digital Studios, had this to say about storytelling in the digital era):

What digital trend is most interesting to you?

The strong growth in mobile traffic and video consumption on mobile is top of mind. It sneaks up on you, and I didn't believe it until I realized that the first ten minutes of my day are spent in my bed watching videos on my phone. However, I'm ready for the era of "views" as the only metric to be over. We have to get more sophisticated in our measurement of success. It's not enough for your audience to watch you. They should love you. Then they're more than eyeballs. They're fans.

With a nod to Twitter, describe the current digital environment in 140 characters or less.

Infinite channels. Infinite audience. Infinite potential.

What do you see as the biggest obstacles confronting content creators, brands and advertisers?

For content creators, the top challenge is capturing attention in a world with infinite content. When it comes to brands and advertisers, authentically connecting with your audience and building a real sense of community are challenging - but not insurmountable.

Do you expect we will see more branded series, or do you see brand marketing expanding elsewhere?

We'll probably see a bit of both, but eventually brands will need to find partners to help them tell stories that speak to their audience. Over time, I expect we'll see fewer "traditional" branded series. Instead, there will be and more story-driven content.

HERE IS MY TALK AT GOOGLE. ENJOY!!!

---
POWER STORY CONSULTING

Can you list the Ten Commandments in order?
or
Can you tell me the story of the life of Moses?

For most people across many different cultures, it is easier to tell the story of the life of Moses than it is to list all Ten Commandments in order…

We are story-driven creatures whose brains are hard-wired in such a way that is we naturally remember stories more than we remember lists of information.

So then, when we have an important presentation to give, why do we attempt to persuade others with a list of bulletted Powerpoint slides?

Think of your favorite teacher. How did he or she persuade and help you retain information in the classroom? I would bet that they did it through the art of storytelling.

The good news is that storytelling is driven by principles, by rules, by paradigms. Hollywood understands these rules and uses them. You should too…

Whether you are a writer, lawyer, executive or brand manager, let Power Story Consultant, Richard Krevolin, help guide you and insure that you tell the most effective, impactful story possible.

Good communication starts with good stories…

Be bold, be daring, tell power stories…

----------------------------------------------------------------------------------

And here is a little excerpt on the Golden Rule of Storytelling from another lecture...